From the Golden Age of Hollywood comes the Brown Derby: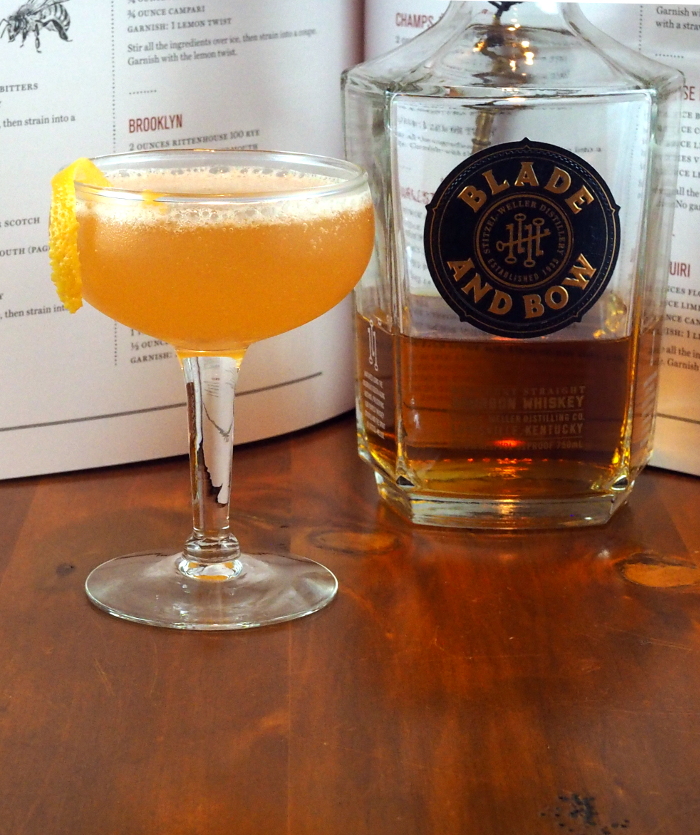 2.0 ounces Elijah Craig 12-year Bourbon
1.0 ounce grapefruit juice
1.0 teaspoon lemon juice
0.50 ounce Acacia Honey Syrup

Shake all the ingredients with ice, then strain into a coupe. Garnish with a grapefruit twist.
The Brown Derby restaurant chain in Los Angeles consisted of a number of restaurants, with the first and most iconic being in the shape of a hat. In researching this cocktail I've uncovered a rather interesting story. In the 1930s, the drink was the signature drink at a competing restaurant called the Vendome Club. Originally called the "De Rigueur" in cocktail books, it somehow morphed into the Brown Derby over time.
I dug this recipe out of the Death & Co. book, as I saw on Twitter they were excited to now have 100K followers. It took me a second to realize that the post was from the Instasnap and I guess automatically posted to Twitter (they only have a little over 2K followers there). Since I don't use that social network I doubt I can participate in the #100KDEATHANDCO promotion, but since their cocktails are always interesting I wanted to revisit the book and make a couple in any case.
I started browsing through the "Classics" section, and the first recipe that caught my eye was the Brown Derby because of the grapefruit. I had just made the Whoa Nellie! which also included grapefruit, and since I like bourbon I figured I'd give this one a shot. Most Brown Derby recipes omit the lemon juice, and to make the honey syrup take Acacia Honey and mix it in a sealable container with warm water 2:1, and then shake the heck out of it.
Rating: 4/5, I did like the Whoa Nellie! more, but this is a solid drink.
Notes: My biggest complaint with the Death & Co. book is that often the spirits they use are very hard to find, especially in North Carolina. I don't have the Elijah Craig they call for but I do have some Blade & Bow. I was recently in Pikeville, Kentucky (home of the Hatfields and McCoys) and when I asked the locals for their sage advice concerning bourbon, everyone I talked to suggested Blade & Bow. They did not steer me wrong, it is amazing. As you can see I'm going to need another bottle soon.