Another classic from Death & Co., the Flamenco: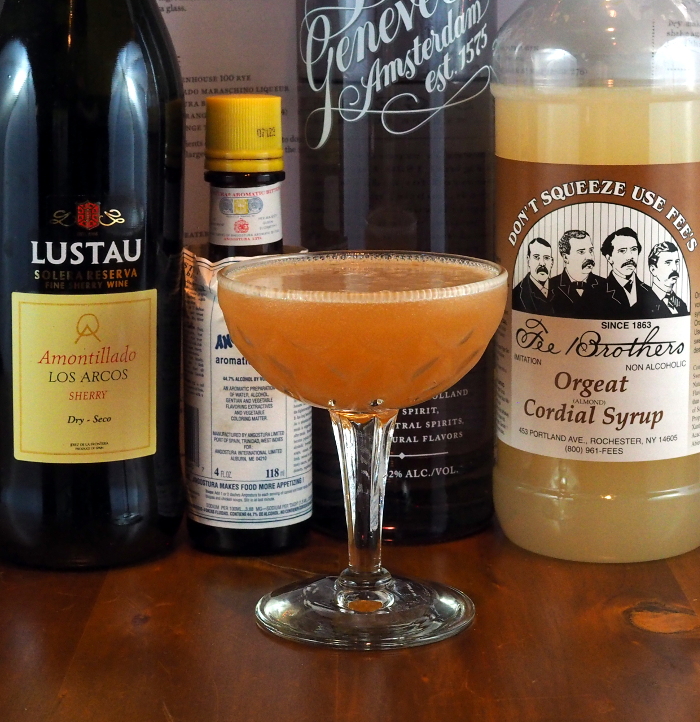 1.50 ounces Lustau Amontillado Sherry
1.00 ounce Bols Genever gin
0.50 ounce orange juice
0.50 ounce lemon juice
0.75 ounce orgeat
2 dashes Angostura bitters

Shake all the ingredients with ice, then strain into a coupe. No garnish.
My biggest challenge in making drinks from the Death & Co. book is finding the ingredients. I was looking for a cocktail to make and was happy to see that I had everything to make this one.
However, even though it is in the "classics" section, I couldn't find any outside reference to the Flamenco. Many recipes in the search results cited the book as a reference, and there were a number of completely different recipes so I'm not sure of the history on it.
The drink is dominated by the taste of sherry, and I'm not a huge sherry fan. I did like it, but it wasn't something I'd seek out – the sweetness of the sherry is a little cloying to me.
Rating: 3/5
Notes: I know I need to make my own orgeat, but I've been perfectly happy using Fee Brothers so I did so here. Otherwise I used the ingredients as specified.