Morse code for Victory, it's Three Dots and a Dash: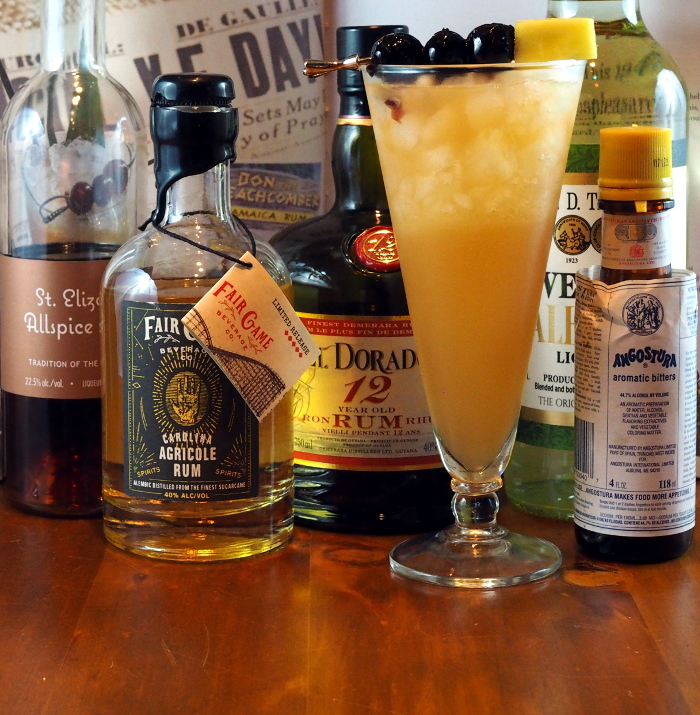 0.50 ounce lime juice
0.50 ounce orange juice
0.50 ounce SC Honey Syrup
0.25 ounce John D. Taylor's Velvet Falernum
0.25 ounce St. Elizabeth Allspice Dram
1.50 ounces cane AOC Martinique rhum agricole vieux
0.50 ounce blended aged rum
1 dash Angostura bitters

Add all ingredients to a drink mix tin. Fill with 12 ounces of crushed ice and 4 to 6 small agitator cubes. Flash blend and open pour with gated finish into a footed pilsner glass. Garnish with three cherries and a pineapple chunk on a cocktail pick.
This is another recipe from the wonderful Smuggler's Cove book, but it caught my eye for a totally different reason.
Some time ago I was in Chicago and I got to visit with my friend Demetri. We hadn't seen each other in awhile and there was a lot to catch up on, so we started off at the the Florentine restaurant bar, home of Life is Beautiful, their take on the Brooklyn and one of my favorite cocktails. They have happy hour pizzas, but after a few drinks we adjourned to find some healthier food. After we ate we ran into a friend of his named Marne, and the three of us ended up at this basement tiki bar called Three Dots and a Dash.
There is nothing better than hanging out with interesting people over amazing drinks. Now, the drinks at Three Dots can be the size of your head, so they are best shared. While I've known Demetri for over a decade it was also nice to chat with Marne. One of the amazing things she does is put together "goodie bags" for homeless people. This is a gallon ziplock bag which includes water, snacks (like crackers), band-aids, disinfectant, and other useful things a person living on the street might need. Being gentlemen, at the end of the night we walked her back to her car (a yellow Pontiac Aztec with a bumper sticker that read "If mountain biking were easy, it would be called your Mom") and a homeless lady approached us for a donation. Marne, with obvious practice, said that she wouldn't give any money but to come to her car and she'd did have something for her. It was kind of cool to watch the lady's expression go from confusion to surprise to satisfaction in just a few seconds as she looked in the bag.
Anyway, back to this drink.
The cocktail calls for a specific version of rhum agricole that I didn't have, but I did have a bottle of the Fair Game rhum agricole that I was eager to try in this cocktail. Rhum agricole is distilled directly from sugar cane juice, whereas traditional rum is distilled from molasses, a by-product of the distillation process. Rhum agricole became popular once sugar production in the Caribbean grew to the point that it could be used for something like rum versus being refined for regular sugar. The Fair Game version is made from local sugar, and I like it so much I gifted a bottle to my friend Lorenzo at the wonderful Dry Martini bar in Barcelona. It has some nice grassy overtones missing in regular rum.
This drink also calls for honey syrup. The Smuggler's Cove recipe is a 1:1 ratio of honey to water, where you heat the honey first to make it easier to incorporate with the water. I love honey in drinks but it can be tricky to use.
It was a very nice drink, but I'm going to ding it a star because it tasted a lot like other tiki drinks and didn't really have a distinctive flavor of its own. Part of that could be that the Fair Game rhum is not aged, so if I can get my hands on some aged rhum agricole I will revisit it.
Rating: 4/5
Notes: As per my usual complaint, I can't get the more unusual spirits used in craft cocktails in North Carolina. The John D. Taylor's Velvet Falernum was "muled" up from Florida by friends of mine. For the blended aged rum I used El Dorado 12-year.