In our house we almost always have a grapefruit. It's odd, because while we eat grapefruit we don't do so very often, and since we always have one sometimes it hangs around past its prime. Thus we refer to it as the "sacrificial" grapefruit.
Due to this new hobby, I tend to have a lot of fresh citrus on hand and I recently bought a new grapefruit to sacrifice. However this time it was to the cocktail gods. Of the four recipes on the list that use grapefruit juice, the one I was most in the mood for was the Palm Beach Special: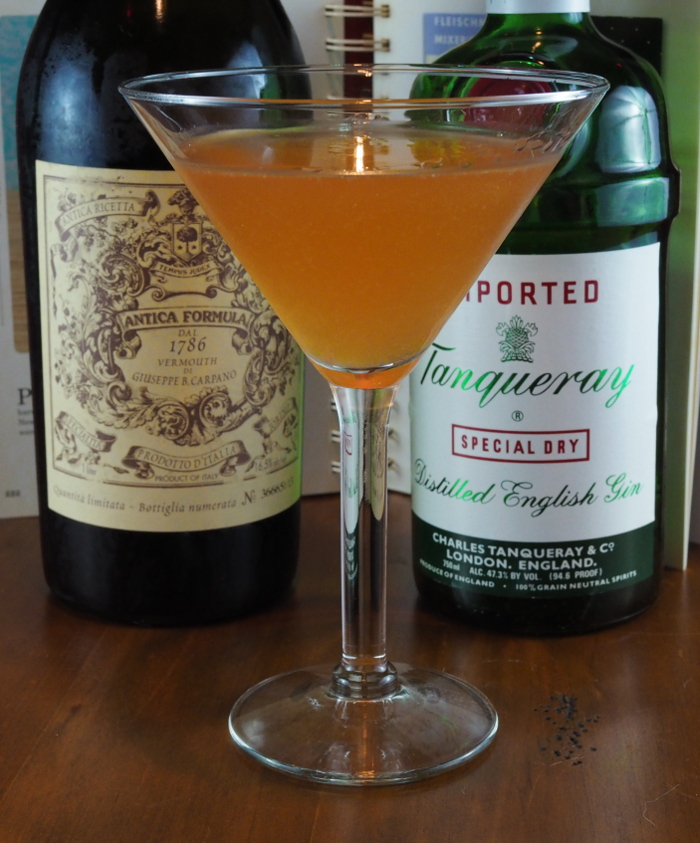 2.50 ounces gin
0.75 ounce grapefruit juice
0.50 ounce sweet vermouth

Shake in an iced cocktail shaker and strain into a cocktail glass.
There was a time I didn't like gin. Its strong herbal nature reminded me more of rubbing alcohol than drinking alcohol. One time I was with my friends Demetri and Cat in Chicago and we were at the, now sadly closed, asian-fusion restaurant called Vongs. There was a wait and the bar was three people deep, so to make things simple I just asked Demetri to get me whatever he was having, which turned out to be a martini made with Bombay Sapphire gin. I loved it.
Currently in the house I have three gins (that I know of, the bar is a little crowded at the moment) which are Bombay Sapphire, Hendrick's and a dusty bottle of Tanqueray. For some reason I decided to make this drink with the Tanqueray. The author uses Plymouth which is on my list to acquire.
It was good, but since it is such a gin-heavy drink the medicinal nature of the Tanqueray added a slightly unpleasant finish. It's not a very sweet cocktail, but the flavors are nicely balanced and I nailed the color (looked just like the one in the book). I thought it was "good" but might be great paired with the right gin.
Rating: 3/5
Notes: Tanquery gin, Carpano Antica Formula vermouth.