Another one from Cuba: the Hotel Nacional Special: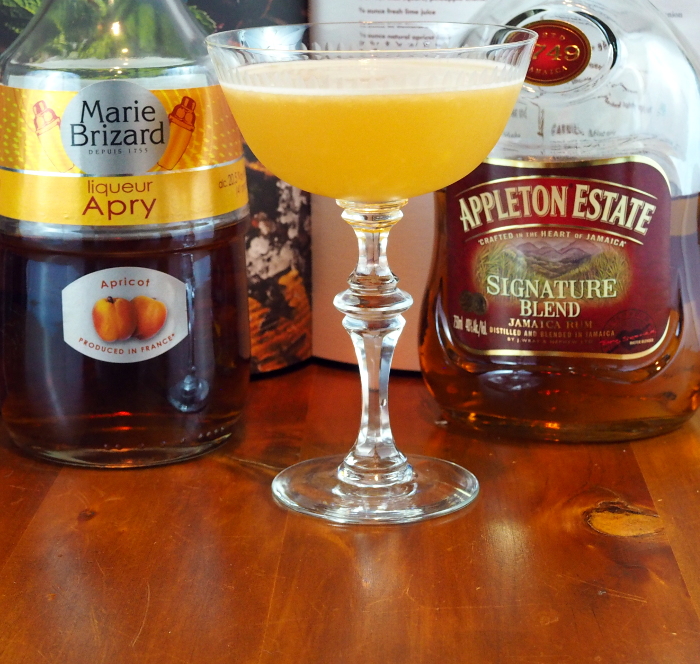 3 or 4 (1-inch square) pineapple chunks
0.75 ounce lime juice
0.50 ounce SC Demerara Syrup
0.50 natural apricot liqueur (such as Rothman & Winter Apricot Liqueur or Gifford Abricot du Roussillon)
1.5 ounces blended lightly aged rum

In a cocktail shaker, muddle the pineapple chunks with the lime juice and syrup. Add the apricot liqueur and the rum, then fill with cracked or cubed ice. Shake and double strain into a chilled coupe.
This may be my new favorite cocktail. Previously, it was the Golden Dawn, which is also the order I place to test the knowledge of bartenders new to me (just for the record, with that drink the correct method is to use equal proportions, sorry Justin).
This recipe is from the Smuggler's Cove book. Like the Daisy de Santiago it is adapted from The Gentleman's Companion. I recently got a copy but haven't had time to read much of it, but I do like Baker's style.
His recipe was somewhat different:
One of the things I like about this hobby is that I learn a lot. In his recipe he called for Gold (de Oro) Bacardi. Bacardi white rum was one of the first spirits I ever drank, yet I didn't know that the company originated in Cuba. Bacardi is one of the largest suppliers of spirits in the world, and a good number of the ingredients I use in these cocktails are actually from Bacardi brands (such as Bénédictine liqueur).
I also learned about the interesting history of the Hotel Nacional. Baker planned to visit in 1933, but the Hotel was the site of a military battle between enlisted men loyal to Batista and Army officers loyal to the previous government. It was also the location of the infamous Havana Conference meeting of all of the influential mob bosses from the United States. This was memorialized in the movie The Godfather, Part II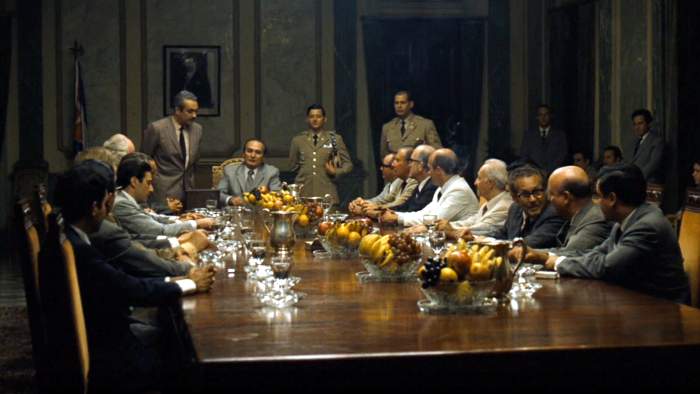 Who says cocktails and education can't go hand in hand?
I love this drink. It is perfectly balanced and I could drink a pitcher of them. One thing I've struggled with in making cocktails that include pineapple is finding a way to get fresh juice. It is easy to juice citrus but I don't have a machine to easily extract the juice from things like pineapples. I never thought about muddling the pineapple and that works really well. As with most drinks containing pineapple juice, shaking them will create a kind of thickness (and a foam) and you do need to double strain as it can be hard to get all of the drink out of the shaker.
I also got to use my new, pretty coupe that I bought at a thrift shop for $1.
Rating: 5/5 – I would give it a 6 if my system went that high.
Notes: I used Appleton Estate's Signature Blend rum, which is a wonderful lightly aged rum that is also affordable. I also used Marie Brizard Apry apricot liqueur because that's what Dr. Cocktail told me to use and I quite like it. I've had the Rothman & Winter as well and it is great, I just don't have a source for it in North Carolina.