Dr. Cocktail lists only a single vintage recipe that uses sour mix, and since I had some on hand I decided to try The Fogcutter: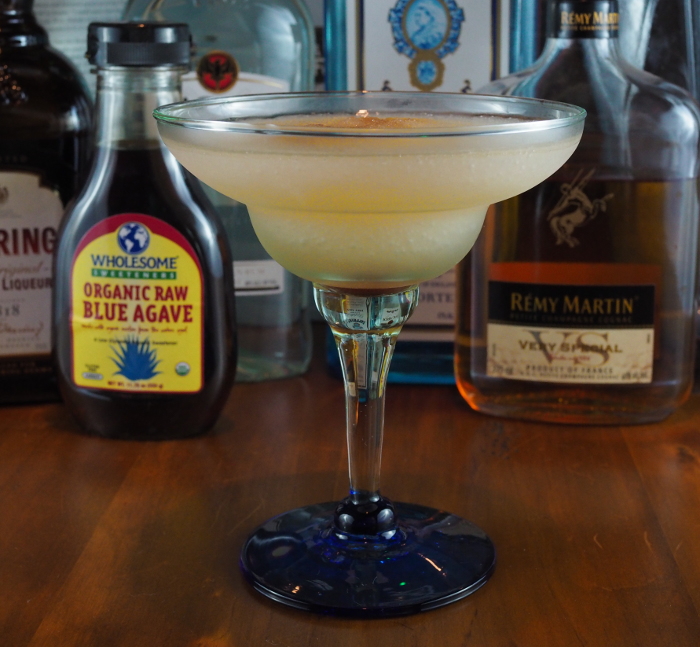 1.0 ounce white rum
0.5 ounce gin
0.5 ounce brandy
0.5 ounce Sour Mix
Two dashes simple syrup

Combine with ice and blend. Pour into goblet. Add a float of cherry-flavored brandy on top.
This drink had a lot of firsts for me. It was my first cocktail to feature rum. It was the first cocktail to be blended. It as also my first cocktail in the "tiki" tradition made famous by Trader Vic's.
The book states that while this drink is attributed to Trader Vic's, the legendary bartender (not actor) Tony Ramos claims it was the signature drink at "Edna Fogcutter's" in Hollywood. There are a number of recipes out there and I found a good comparison of them that rates the one from Trader Vic's higher than the one presented here. I plan to try that version in the future, but as my stated goal is to make every recipe in the book I wanted to start with this one.
I thought it would be much sweeter than it was. There is also some confusion as to how to serve it. I blended it with about a 3/4 cup of ice and just poured that into a margarita glass. The comparison article states it should be served over ice, but I think that would not work for this recipe. Overall it was a good cocktail, but not something I would seek out. The cherry brandy float does add a lot to the drink, and I actually liked it better once it had melted a bit.
Rating: 3/5
Notes: When dealing with small amounts of plain simple syrup, I tend to substitute agave nectar. I am also just learning about rum, so I used the Bacardi that I had on hand, and I have plans to acquire more specialized brands soon (my friend Tom suggested an article to help). For the gin I went with Bombay Sapphire since I want to finish that bottle to make room (the bar is getting crowded) and I have a spare. For the brandy I used Rémy Martin. The cherry brandy was Heering.