For a recent party I bought some spicy Jamaican-style ginger ale, so I thought it was time to try The Moscow Mule: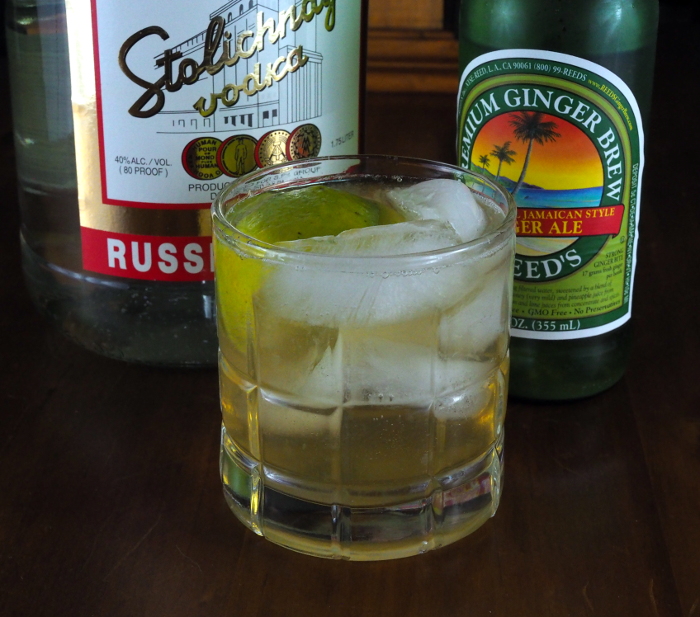 2 ounces vodka
Juice of 1/2 lime
Ginger beer or ginger ale

Squeeze lime juice into a Moscow Mule mug. Drop the spent lime shell into the mug. Add ice cubes and the vodka, then fill with ginger beer.
Almost every time we go to the Oak Leaf for lunch, my friend Ben gets a Moscow Mule. I thought it was because he really likes them, but at the party he told me it was because they are usually on special. (grin)
This is my first cocktail to feature vodka. Vodka is not used much in vintage cocktails. In the US it was mainly consumed by Eastern European immigrants (I am descended from one) who drank it straight. Vodka is not aged, so after the supply of aged spirits dwindled after Prohibition, it became popular since it was easier to produce quickly, compared to, say, scotch. This drink is one that popularized vodka, and according to the book, its creation was a little serendipitous.
Traditionally, the drink is served in a copper cup. It was invented at the Cock and Bull Tavern in Los Angeles, and the owner, Jack Morgan, had a girlfriend who had inherited a business that made copper goods. He was also saddled with a large amount of ginger beer that he didn't know what to do with, and the rest is history.
One reason I don't care for vodka in cocktails is that it tends not to have a taste of its own. It's great if you want an alcoholic drink where you can't taste the alcohol, but for me that's kind of the point.
The drink is technically a highball: ice, spirit and sparkling mixer. Substitute the vodka for scotch and you have a Mamie Taylor. Switch the vodka for rum and the ginger ale for Coke and you have a Cuba Libre. I love how making one small change allows you to rename almost any cocktail.
I wasn't expecting to like this drink, but I did. It isn't something I would seek out on a wintry evening, but in the summer I think it could easily replace my go-to Gin and Tonic. It was invented for hot Los Angeles after all.
Rating: 3/5
Notes: I used Stolichnaya vodka and Reed's ginger ale. I think Smirnoff would be more authentic, but I only had 100-proof and didn't feel like using it in this drink.