It may seem funny that my second cocktail post doesn't come from the book that inspired the website, but my love of cocktails was inspired by a number of people as well, including my friends Demetri and Cat in Chicago.
Whenever I would visit we would end up at the bar at the Florentine, which is located in the JW Marriott hotel. On one visit I was introduced to "Life is Beautiful" and not only is it my go-to cocktail when I'm there, it is my go-to at home as well.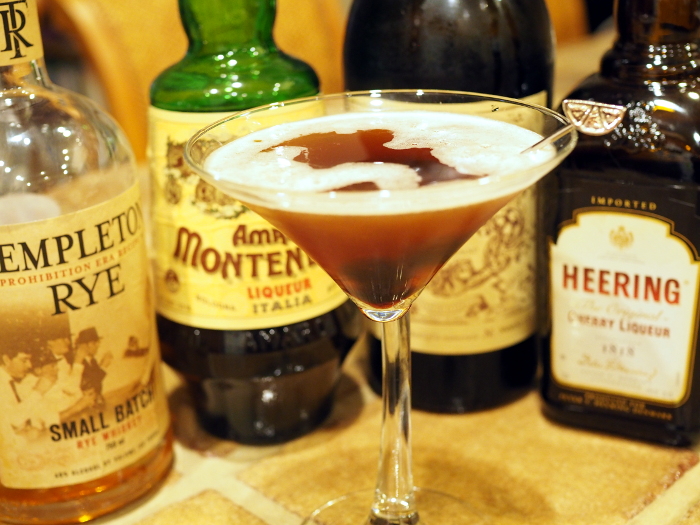 1.5 ounce Templeton Rye
1 ounce Carpano Formula Antica
0.5 ounce Montenegro Amaro
0.5 ounce Heering Cherry liquor

Shake in a cocktail shaker and strain into a glass. Garnish with two cherries (I use Luxardo)
I love this beverage, but it is strong and not very sweet. Andrea doesn't care for it. I love that the sweetness of the cherry liquor is offset by the bitterness of the amaro. I also like that it doesn't require a lot of fresh ingredients (one shouldn't let the vermouth go too long but it does keep in the refrigerator) as I don't always have lemons on hand, for example. This is the drink I turn to after either a really good or really bad day, and sometimes just because.
I use Templeton Rye because that's what the Florentine uses, but I think any high-end rye would work with this drink. One thing that you shouldn't skimp on, however, is the Carpano Formula Antica. According to Demetri it is the sweet vermouth and you shouldn't use anything else. It was the first vermouth ever made, and I was able to find it at a good wine shop.
Another ingredient you shouldn't substitute is the Heering Cherry Liquor. This is a classic ingredient in a number of recipes and I plan to be using it often as I work my way through the book.
The first time I had Amaro was in Sorrento, Italy with my friend Antonio. It was late and we had just eaten at Pizza a Metro (at, like, midnight – I love Italy) and Antonio ordered one for himself. I wanted to try it, so I got one too, but I have to say that on its own I found it very bitter. It is an herbal liquor that is often used as a digestif. Here it really makes the drink, although I am not sure that the Montenegro brand is a requirement.
I had to order both the Heering and the Montenegro as I live in North Carolina where spirits are heavily regulated.
As for tasting notes, the drink has a strong initial bite due to the rye, and that is quickly followed by the sweetness of cherries. But before that can get cloying, the amaro kicks in and smooths everything out.
It makes me feel all warm inside.
If you are ever in Chicago it is worth a visit to the Florentine. They have a large selection of other cocktails, and if I can ever stop drinking this one I plan to try them.
Rating: 5/5