Having just received my Fee Brothers Orgeat Syrup I decided to try The Fogcutter again, using the recipe from Trader Vic's: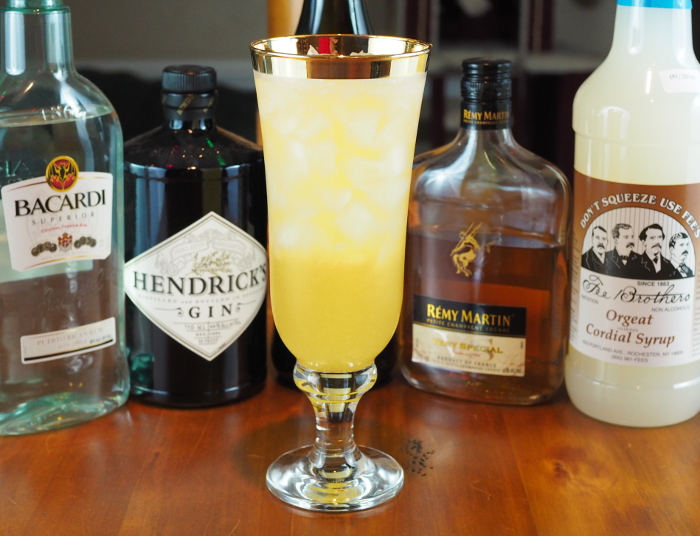 2.0 ounces light Puerto Rican rum
0.5 ounce gin
1.0 ounce brandy
1.0 ounce orange juice
2.0 ounces lemon juice
0.5 ounce orgeat syrup
0.5 ounce sherry

Shake with cube ice, strain into a glass, and fill with crushed ice.
First off, this is a huge cocktail. Most of the cocktails I've been making have around one and a half to two ounces of spirit. This has close to four. I had to change the glass I was planning to serve this in to leave room for ice.
Trader Vic's had a reputation as being at the apex of the "tiki" tradition, and after drinking this I can see why. I followed the suggestion and cut the lemon juice to 1.5 ounces and the drink was a nice mix of sweet and tart. I did like it better than the Tony Ramos Fogcutter presented earlier, but the book does feature yet another Fogcutter attributed to Don the Beachcomber. It is the same recipe as above but with specific ingredients requested: Barcardi Gold Rum, Pisco Brandy and Plymouth gin. Once I acquire these things I'll give it another go.
Rating: 4/5
Notes: I used Bacardi white rum, Hendrick's gin and for the brandy I used Rémy Martin.
The Fogcutter (Trader Vic's)