While dairy is not an ingredient I associate with cocktails, there are a number of cocktails in the book that feature it, include the Soyer au Champagne: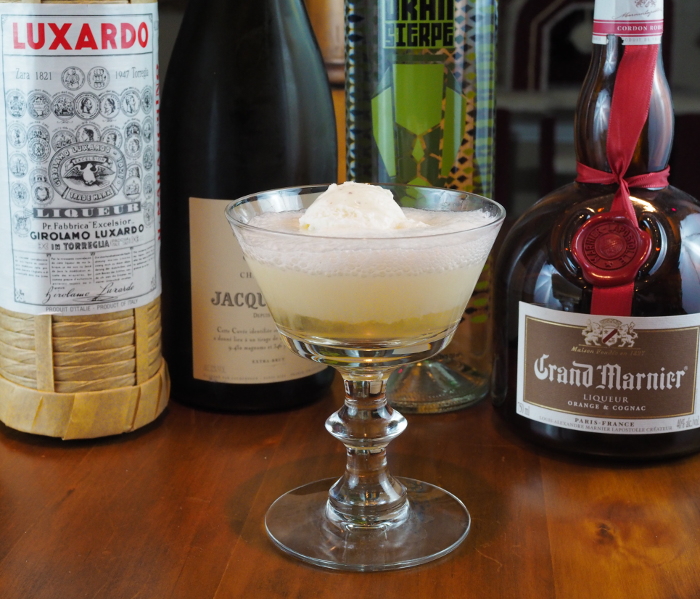 2 dashes maraschino liqueur
2 dashes pineapple juice
2 dashes orange curaçao (or Grand Marnier)
2 dashes brandy
champagne
1 tablespoon vanilla ice cream

In a parfait glass, combine the maraschino liqueur, pineapple juice, orange curaçao and brandy. Fill with champagne. Add the vanilla ice cream on top. Serve with a spoon and a straw.
I'm not one for "dessert" cocktails, and this one was no exception. I liked the ice cream but I didn't think the champagne added much – I would have rather just had the ice cream, perhaps with a little Grand Marnier drizzled on top. I think in part the mismatch was due to using dry champagne, there are sweet "sec" champagnes that might elevate this drink a bit, but next to the ice cream it just tasted sour.
It does give me a chance to point out that just like with the orange liqueurs, there is a variety of cherry liqueurs. In this case I used Luxardo, which to me is kin to Triple Sec or Cointreau, versus Heering, which has a brandy base like Grand Marnier. I guess we could continue the analogy a little more and relate curaçao to kirschwasser, but that may be going a bit too far.
Rating: 2/5
Notes: Wanting a sweet drink, I used Pisco Brandy (Gran Sierpe) from the early Fogcutter. I did use Grand Marnier. The champagne was the last of the Jacquesson.