When Justin Peregoy, the cocktail chef at the Oak Leaf, heard we were going there for my birthday he named that night's special cocktail Tarus the Bull: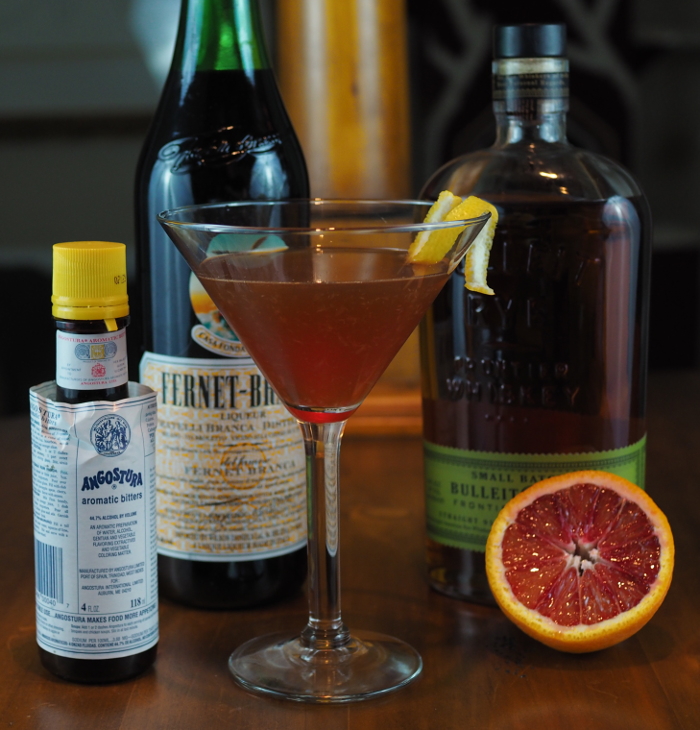 Pour the first four ingredients into a bar glass with ice. Stir until cold then strain into a cocktail glass. Add bitters. Garnish with a lemon twist.
To say that I was humbled by having a cocktail named after me is an understatement, and it made the evening perfect.
Monica, our server, was certain I'd ask for the recipe so she wrote it down in her order book: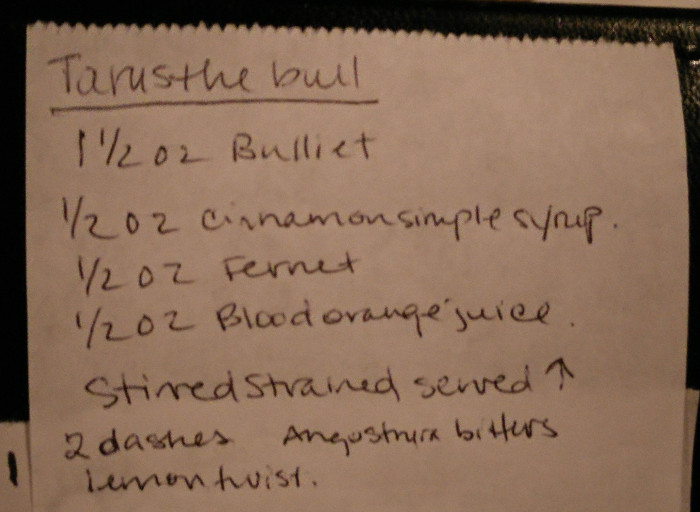 It's a great reflection on Justin that this drink works so well (and, yes, I'm biased). If you have ever tasted Fernet Branca straight, you'd understand how bitter it is. Contrast this drink with the Handy Panky which only uses two dashes instead of a whole half ounce, and you can imagine how bitter this drink could be.
But it isn't. The cinnamon simple syrup directly offsets it. You get this great herbal undertone without the bitterness. The hardest thing to make with this drink is the syrup, since Justin's instructions were that he just keeps tasting it until it is "just right."
(sigh)
For my version of the syrup, I mixed half a cup of sugar with half a cup of water and brought it to a slow boil. When all of the sugar was dissolved, I removed it from the heat and added two sticks of cinnamon. Sometime between 10 and 15 minutes later I removed the cinnamon. It should taste sweet with a definite flavor of cinnamon, but it shouldn't burn at all. This isn't Fireball Whiskey we're making.
Justin explained that the reason you don't want it too strong is that cinnamon compounds on the palate. The more you taste, the stronger the flavor, and by the end of the cocktail you can definitely tell the difference – although it should never be too strong. With the nice taste of the rye and the sweetness of the blood orange juice, this cocktail is nearly perfect.
Plus, ain't it purty?
Rating: 5/5 (I describe a "5" drink as one I'll have two of, and I did).
Notes: I used the green label, small batch Bulleit Rye. Orange label should work fine, or any other high rye content whiskey.