In honor of April 15th, The Income Tax Cocktail: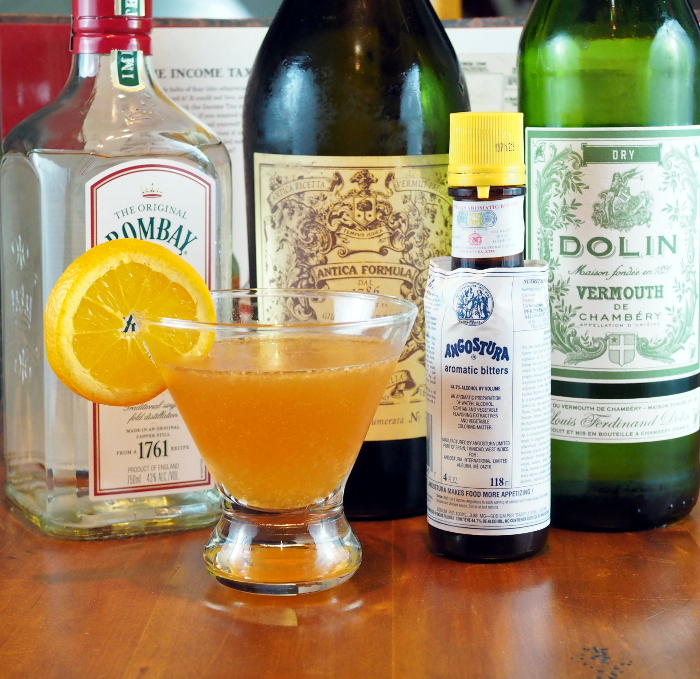 1.50 ounces gin
0.75 ounce dry vermouth
0.75 ounce sweet vermouth
Juice of 1/4 orange (squeezed right in the shaker)
2 dashes Angostura Bitters

Shake in an iced cocktail shaker and strain into a cocktail glass. Garnish with an orange wheel.
The Income Tax cocktail is also known as the "Bronx with Bitters". Every borough in New York City, except Stanton Island, has a cocktail named after it. The most famous, the Manhattan, is popular even today so it can't be considered "forgotten". I quite liked the Brooklyn and so I was looking forward to trying this one (the Queens Cocktail isn't in the book but it looks like the Bronx with pineapple juice instead of orange juice).
The key to this drink is to make sure to use fresh orange juice. I always try to use fresh squeezed juices in my drinks, and I happened to have several small but really juicy and sweet navel oranges on hand.
This one was wonderful. Due to a trip out of town we got our taxes done a few days early, but I did have to drive four hours in heavy rain today so I was looking forward to relaxing with a cocktail when I got home. This did nicely. I might have even preferred a straight up Bronx as I thought the bitters were a little distracting in this drink, but only slightly and as a very mild aftertaste, so if you don't have bitters on hand you are probably all right to experiment without them.
Rating: 4/5
Notes: I used Bombay London Dry gin, Dolin dry vermouth and Carpano Antica sweet vermouth.