For the Fourth of July, what could me more patriotic than Fish House Punch?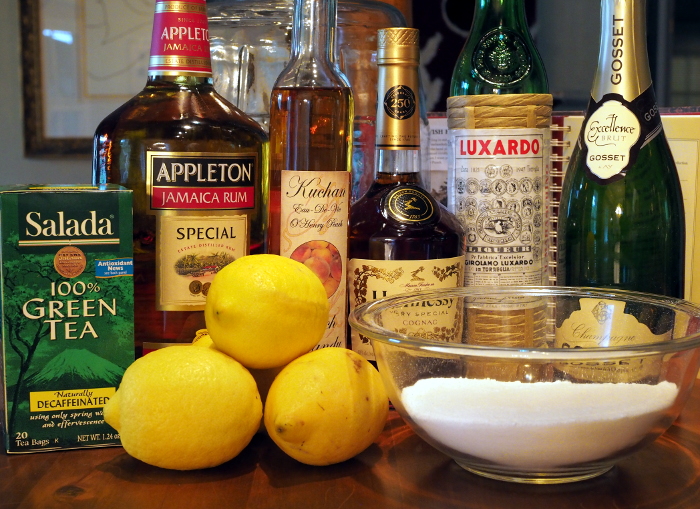 2.0 quarts Jamaican Rum (Appleton recommended)
1.0 quart brandy (Hennessy recommended)
0.5 pint peach brandy
0.5 pint maraschino liquor
1.0 quart freshly made green tea
1.0 pint lemon juice
1.0 pound powdered (not confectioners') sugar
1.0 bottle champagne

Stir together in a large pot with lid. Let brew (they advise for two days). When ready, pour over ice in a punch bowl and stir in the champagne
I had been wanting to make Fish House Punch for some time, but since it makes nearly 2 gallons I had to wait for the right occasion. As it turned out, I had about 30 people coming over for a cookout on the Fourth of July so it seemed to be the perfect time.
Wikipedia refers to Fish House Punch as "this most venerable of American flowing bowls" which a little poetic for them but spot on. It is known that George Washington would partake of this punch, and it can be assumed that other founding fathers did as well. If the US of A was to have a national punch, this should be it.
As a host of a party I can highly recommend it. Basically, once your guests have a few cups, they pretty much won't care about the quality of the rest of the party. This stuff is fun, delicious and potent. I'm afraid that I overcooked the hamburgers a bit after a couple of cups myself, but as mentioned above, no one cared (although a few people teased me about it).
For the initial preparation, you'll need a container that holds at least 1.5 gallons. I bought a 2.5 gallon jar from Amazon.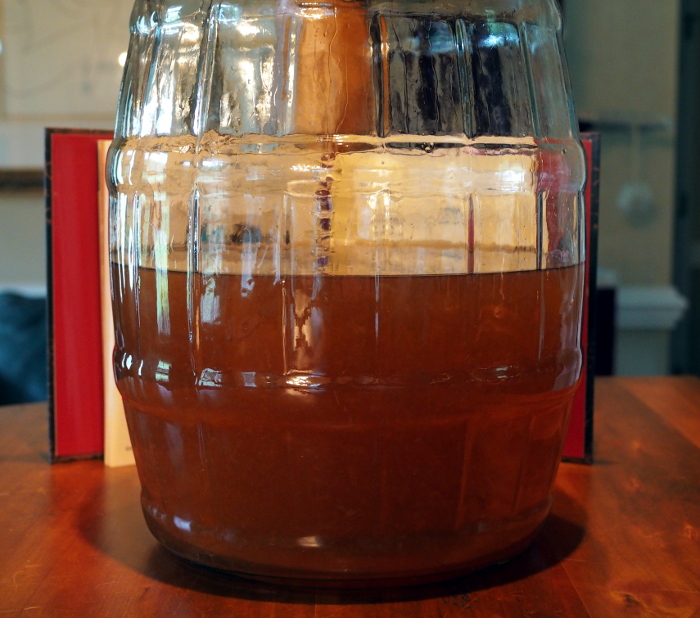 The powdered sugar was a little problematic, as the only thing my store sold that was labeled "powdered" was 10x confectioners' sugar. I solved the problem by sticking a pound of regular granulated sugar in a food processor for about three minutes.
You'll also need ice and a punch bowl. I bought a Jello mold to make a ring of ice, but it was a little too small. I also got a nice punch bowl and a ladle that would keep things cool. While I liked it fine when it wasn't ice cold, my guests seemed to prefer it with lots of ice, so if I make it again I'll make a bigger ice ring. We just added ice to it until it reached a temperature people liked.
Some adventurous folks even mixed it with a local soda called Cheerwine and said it worked well. I did not try that. I liked it (a little too much) as it was.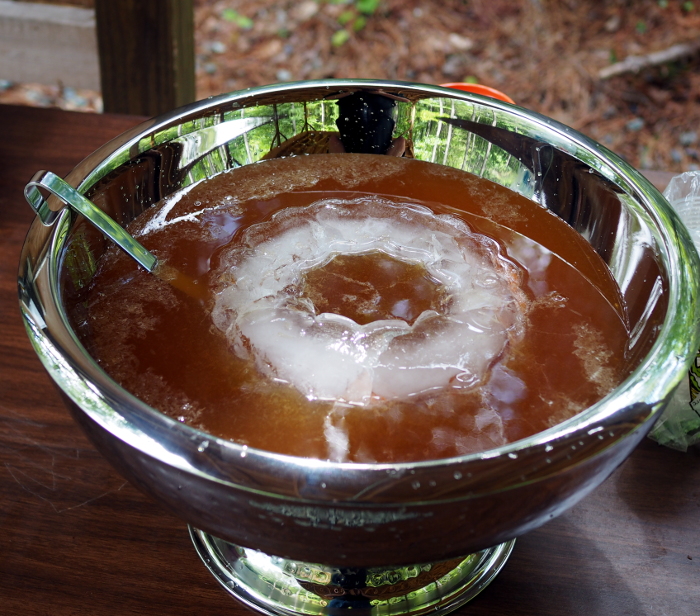 Rating: 5/5
Notes: I used the Appleton and Hennessy as recommended. I used Luxardo maraschino liquor and most of my precious, oak-aged Kuchan peach brandy. The champagne was Gosset that I received as a gift.