Gin and citrus go well together, like in the Pegu Club Cocktail: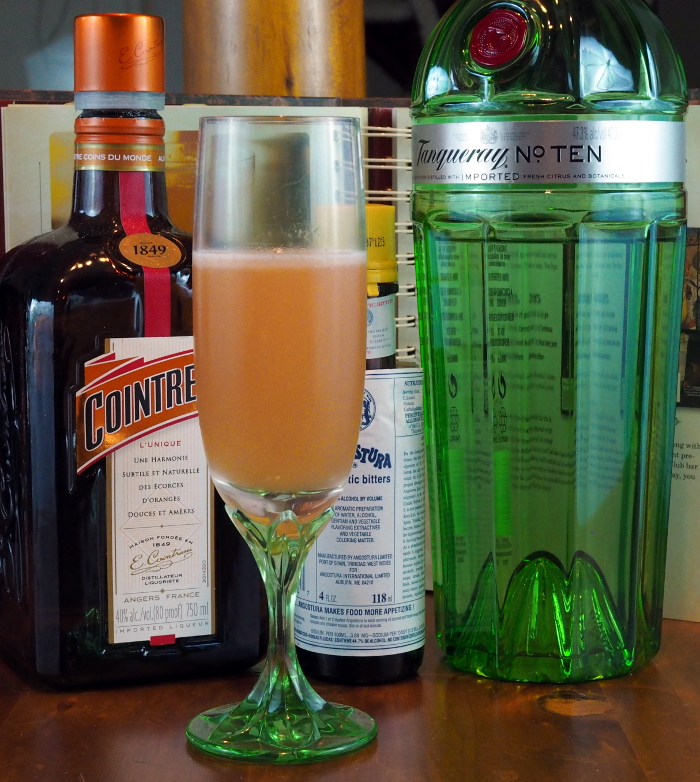 1.50 ounces gin
0.50 ounce Cointreau
0.75 ounce fresh lime juice
2 dashes Angostura bitters

Shake in an iced cocktail shaker and strain into a cocktail glass.
I decided to make this cocktail simply because it is referenced in another recipe that I plan to make next. It's hot here at the moment so anything cold with "gin and juice" is welcome.
The name refers to a club in Burma (now Myanmar) frequented by British officers in the late 1800s through early 1900s. While the building still exists, Wikipedia states it is in a state of disrepair. There is a club in New York with the same name, and they apparently also serve this cocktail.
I liked it, although I had to debate with myself about whether or not to give it a three or a four. It is definitely 3.5 but my system doesn't allow for half measures, so I finally decided to give it a three. It's just not something I'd seek out but wouldn't refuse one put into my hand.
If I make it again, I'll reverse the amount of Cointreau and lime. I found the lime to be a bit overpowering. Other recipes call for a dash of orange bitters instead of a second dash of Angostura, and that would most likely improve the drink as well.
Rating: 4/5
Notes: For the gin I used some Tanqueray No. 10 that I got at the duty-free at Heathrow. I am one of the few people on the planet who doesn't care for Tanqueray's standard London Dry Gin, but I like the No. 10.