I hate the name, but I love the Barnum (Was Right) Cocktail: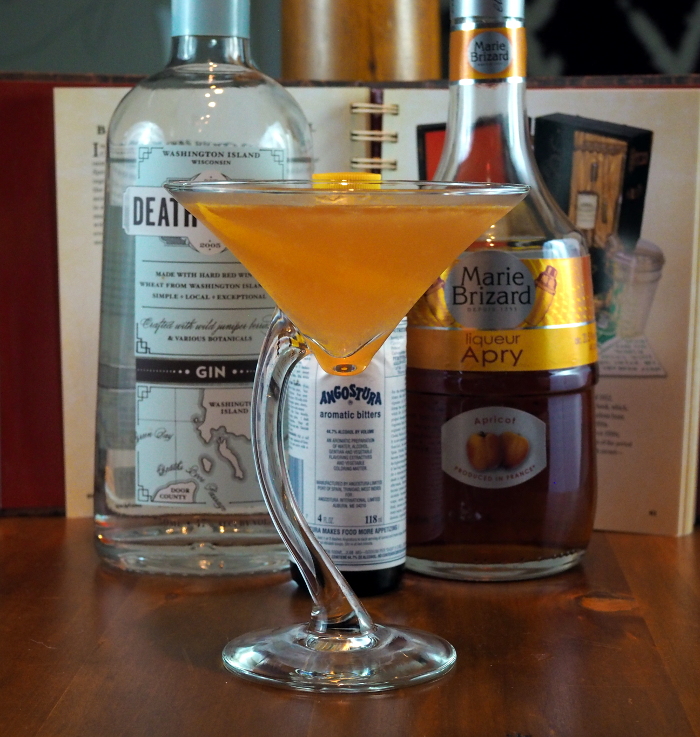 2.0 ounces gin
1.0 ounce apricot-flavored brandy (the best is Marie Brizard's Apry)
0.5 ounce fresh lemon juice
2 dashes Angostura bitters

Shake in an iced cocktail shaker, and strain into a cocktail glass. Garnish with a lemon twist.
Okay, so let's get the name out of the way. It supposedly references the quote "There is a sucker born every minute" which is usually attributed to P.T. Barnum. It is meant to refer the fact that many cocktails with different names are very similar, and Dr. Cocktail states that this drink "appears to be a variation of the Pegu Club" which implies you are a "sucker" for thinking this is a different drink.
While I think that subtle differences can radically change cocktails, I don't get this reference between the Barnum and the Pegu Club. This drink uses more gin, apricot brandy versus Cointreau, and lemon juice versus lime – all in different proportions. Compare this to the Moscow Mule, which is just a Mamie Taylor with vodka instead of scotch (and better marketing), or the Gibson, which is just a Martini with a cocktail onion garnish instead of an olive, and by comparison they are worlds apart.
I wasn't able to verify the origin of this drink on the interwebs, as everyone simply references Dr. Cocktail's book, so I have to take his word that it is vintage.
Plus, while the Pegu Club was merely good, this cocktail is excellent. I wasn't expecting to like it so much, but it really shows off the gin and gave me another excuse to partake of Death's Door, one of my new favorites. The slight sweetness of the brandy accents the floral overtones in the gin without being too sweet. I had a hard time not making (and drinking) a second one.
Rating: 5/5
Notes: Death's Door gin (recommended) and Marie Brizard's Apry. Seriously, if you can't find Apry wait until you can to before making this drink, but don't wait to try Death's Door gin.
Barnum (Was Right) Cocktail