It's back to the "A's" with The Algonquin Cocktail: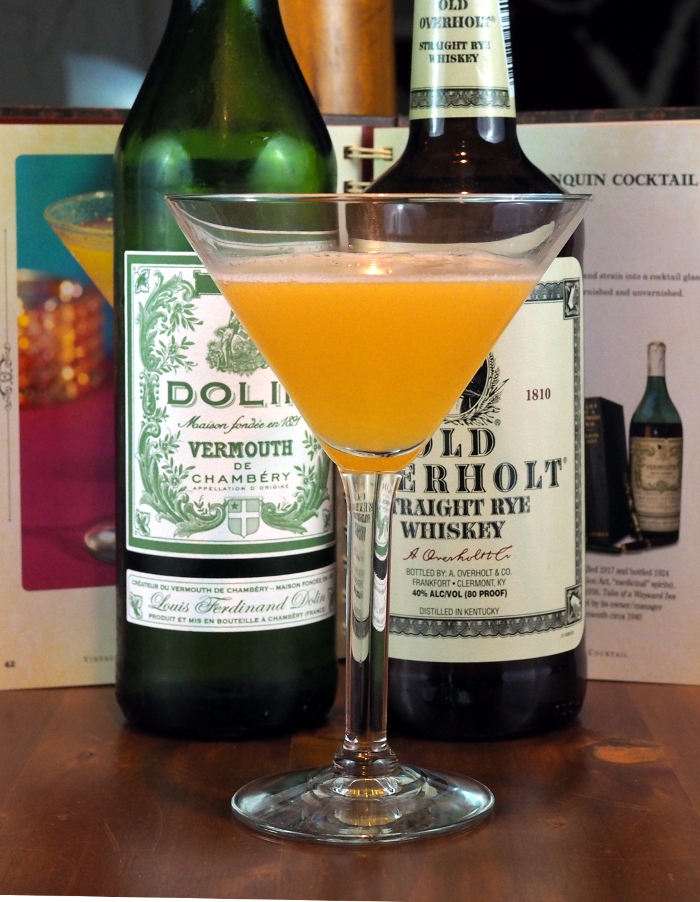 1.50 ounces rye
0.75 ounce dry vermouth
0.75 ounce pineapple juice

Shake in an iced cocktail shaker, and strain into a cocktail glass.
I really thought I'd like this cocktail. I like rye and I thought it would go well with pineapple juice, and I really like the name.
The Algonquin is a hotel in New York City that is best known as the site of the "Algonquin Round Table", a daily gathering of literary, entertainment and art figures that met for lunch there for nearly ten years. In my life I've experienced a couple of occasions where friends and acquaintances of mine have gathered for an experience I imagine to be similar to what the Vicious Circle was like, and I wouldn't mind more of those in my life.
This cocktail, however, probably won't be returning. I used a newly acquired Old Overholt rye which tastes a little harsher than the ryes I've been drinking, and while the vermouth was relatively fresh the whole drink had an unpleasant harshness. If peach bitters are added to the drink it becomes a Queen Anne, and I may try to make that with a different rye.
Rating: 2/5 – even with a different rye, for me this drink would probably garner at best a 3.