As summer comes to a close I wanted to make the La Floridita Daiquiri: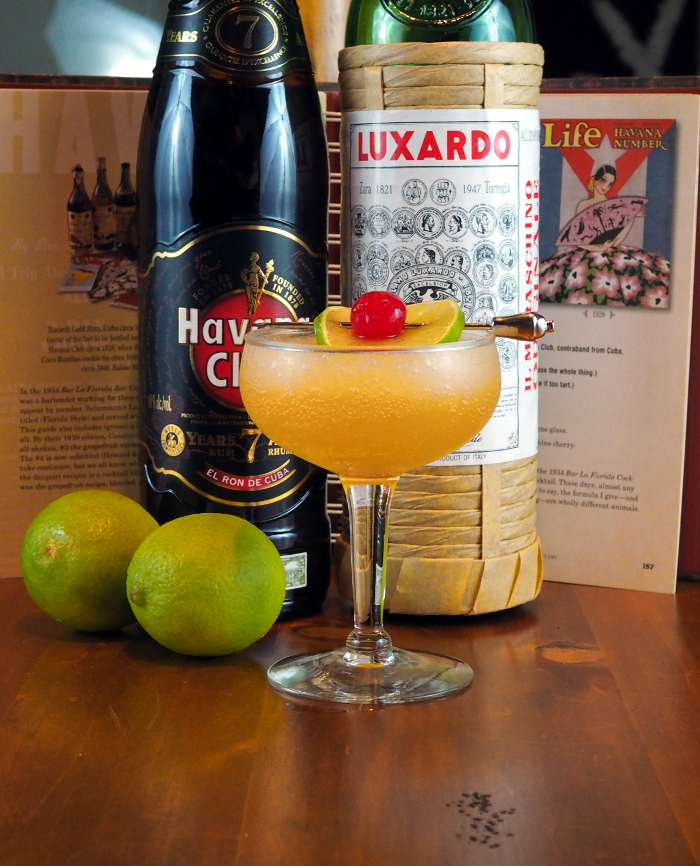 2 ounces rum (such as Havana Club from Cuba or Brugal from the Dominican Republic)
Juice of 1/2 lime (If your limes are small, use the whole thing)
1 teaspoon sugar or sugar syrup (increase if too tart)
1 teaspoon maraschino liqueur

Blend with crushed ice. Serve in a saucer cocktail or champagne glass. Garnish with lime wheel and a maraschino cherry
Ah, the daiquiri – hard to spell but easy to drink. This is the frozen concoction Hemingway would drink at the La Florida Bar in Havana, Cuba. A favorite of the locals, they would refer to it at the "La Floridita" as a sign of affection.
But, you might be asking yourself, I can get daiquiris anywhere, they are hardly vintage. Well, true, today almost any rum drink can be called a daiquiri, but this recipe goes back to the drink's roots: rum, sugar and limes.
Dr. Cocktail dedicates four pages to this cocktail, tracing the history of it from two copper mine engineers in Cuba up through Hemingway and beyond. There was some confusion of whether or not to use lemon or limes (limes, of course) and there are references that suggest the daiquiri Hemingway drank also included grapefruit juice. A quick web search turns up versions with Crème de Cacao, sweet vermouth and even grenadine. This is the exact recipe from the 1934 Bar La Florida Cocktails guide.
This is a tasty drink. I wasn't able to get the thick frozen consistency of the picture in the book, which looks more like a slushy. I'm not sure if I should have chilled the ingredients before blending or that my Vitamix is just too strong. It still had bits of ice though and was more than refreshing.
I asked Dr. Cocktail how much ice to use, and he suggested a Sazerac glassful, which is the size of a small Old Fashioned glass.
Rating: 4/5
Notes: I used contraband (maybe not for long) Havana Club 7 Años rum and Luxardo Maraschino Liqueur.