Did you say you wanted a blue drink? Try the Leatherneck Cocktail: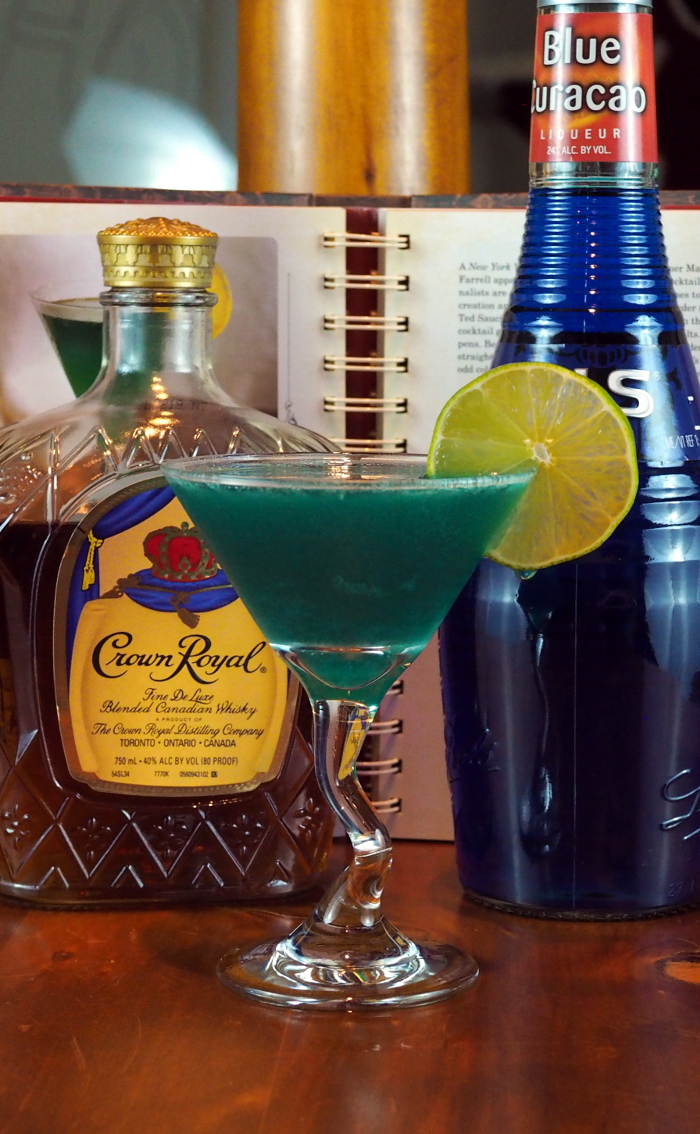 2.00 ounces blended whiskey (Crown Royal recommended)
0.75 ounce blue curaçao
0.50 ounce fresh lime juice

Shake in an iced cocktail shaker, and strain into a cocktail glass. Garnish with a lime wheel.
Okay, I don't like blue curaçao. Curaçao is supposed to be a colorless spirit, but it is often dyed blue to add a weird color to drinks. Seriously, there is no blue food so there should be no blue drinks.
But as I am determined to make as many of these recipes as I can, I went ahead and made this one.
According to Dr. Cocktail, this drink was invented by a journalist and former Marine named Frank Farrell (I think this is his obit, which doesn't mention the cocktail). Besides the blue curaçao, the other thing it has going against it is the use of blended whiskey. Now I don't, personally, have much against blended whiskey but I don't use it often in cocktails. I live in the Southern United States where it gets hot, and instead of a "gin and tonic" I will more often go for a "Seven and Seven" (Seagram's 7 Crown and 7-Up soda) or better yet, a "Seven and Wink".
As I went into tasting this drink thinking I would hate it, there should be no surprise that I didn't care for it much. But, it dawned on me that all it really needed was a little sweetening, so I added a squirt (about 0.25 ounce) of simple syrup that I keep in a squeeze bottle. Then it was a decent cocktail. So, if you just have to have a blue cocktail, try it out.
Rating: 3/5, 2/5 if you leave off the simple syrup.
Notes: Dr. Cocktail suggested you use a "dusty old bottle of Crown Royal" which I happened to have, although Canadian Club or Seagram's 7 Crown should work. For the blue curaçao I used Bols. My go-to brand is Señor Curaçao but I wasn't about to pay three times as much for the blue food coloring. Bols is a decent curaçao, and it's very, very blue.