Shaken, not stirred, it's the Vieux Carré Cocktail: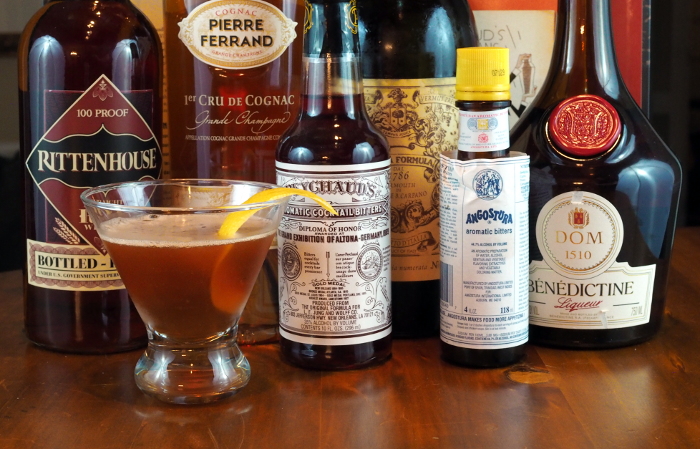 Shake in an iced cocktail shaker, and strain onto fresh ice in a rocks glass. Garnish with a lemon twist.
Normally, drinks that just contain spirits are stirred, drink that contain fruit juice are shaken, and drinks that contain egg are ♬ shaken like you just don't care ♬.
Thus one would think that the Vieux Carré would be stirred, and in fact many recipes say to do that, so I went directly to the source:

I should note another notable exception is the Vesper, home of the original "shaken, not stirred".
The Vieux Carré is a cocktail you may actually find at a bar, and it was one I was exposed to before I started reading this book. A drink that's associated with New Orleans, I thought it was cool that as I was making this an ad on the television in the next room used Patti LaBelle's "Lady Marmalade" as its music.
I first saw it on the blog of David Lebovitz as an example of a cocktail that would work aged in a barrel. I decided to try it, since Chad Lobner, one of the people responsible for my interest in classic cocktails, is known for his barrel aged Manhattans.
I bought a barrel from Thousand Oaks Barrel Company and proceeded to make David's recipe. I wasn't too impressed with the quality of the barrel and it only lasted the one time (even though I kept it full of water and put in those little pills they give you, it developed a leak), but it did lend an interesting vanilla flavor to the drink. Still, it wasn't may favorite so I still have some of it around.
This recipe, on the other hand, is wonderful. I'm not always in the mood for a Vieux Carré but when I am, little else will do. I have found during this experiment that I lean toward drinks along the lines of the Brooklyn, such as Life is Beautiful, and this is in that class.
One problem I have with Dr. Cocktail's book is that he rarely recommends a particular brand of spirit. Contrast that to Death & Co., who are very specific about brands and often use hard to find varieties (Lemonhart 151 anybody?) Here is their Vieux Carré:
1.00 ounce Rittenhouse 100 Rye
1.00 ounce Pierre Ferrand Ambre Cognac
1.00 ounce Carpano Antica Formula Vermouth
1 teaspoon Benedictine
1 dash Angostura Bitters
1 dash Peychaud's Bitters

Stir all the ingredients over ice, then strain onto a double rocks glass. Garnish with a lemon twist.
They up the Benedictine and drop the bitters. I made it the first way, except I like mine neat so I just strained it into the glass. I also wiped the lemon peel around the rim of the glass to express a little of the oils. I sawer that on the Internets somewhere.
Rating: 5/5, 3/5 for the barrel-aged version, although it might work better with different brands of spirits.
Notes: It looks like Rittenhouse 100 Rye is a go-to rye for classic cocktails, so that is what I used here. I didn't have any Pierre Ferrand Ambre Cognac but I did have the 1840, so that it what I used. My go-to sweet vermouth is always Carpano Antica.