It's time for champagne, and that means the French 75: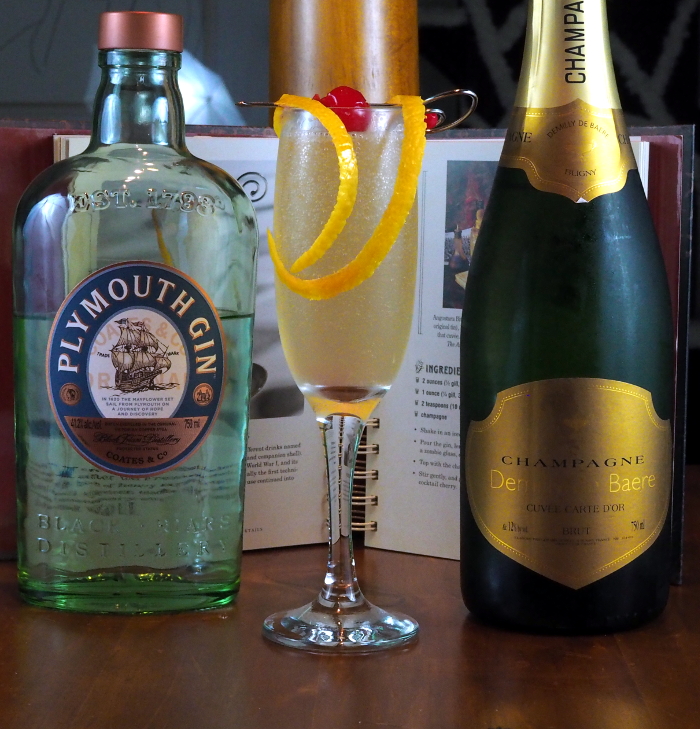 2 ounces gin
1 ounce lemon juice
2 teaspoons sugar or 1 teaspoon simple syrup
champagne

Shake all but the champagne in an iced cocktail shaker. Pour into a tall glass (a collins glass, a zombie glass or a champagne flute will do – the latter preferred). Top with champagne. Stir gently and garnish with a long, thin lemon spiral and a cocktail cherry.
As far as vintage cocktails go, this one is making a comeback. I've seen it in numerous bars, even at an airport bar in Dublin. The reason is simple: it's a great drink.
The French 75 is named after a 75mm field gun used heavily in World War I. The drink was invented in Paris, and some versions substitute brandy for the gin to make it more "French".
I really liked this drink. I like champagne but I don't seek it out, and the addition of the gin and lemon both adds kick and mellows out the drink which makes the whole thing more palatable.
This drink is also in the Death & Co. book. Their recipe is slightly different:
1.50 ounces Plymouth Gin
0.75 ounce lemon juice
0.50 ounce cane sugar syrup
Dry champagne

Shake the ingredients (except the champagne) with ice, then double strain into a flute. Top with champagne and garnish with a lemon twist.
Rating: 4/5. On another night this might have managed a 5 but as I made a number of cocktails that evening, some which were better, I'm going to rate it a 4.
Notes: I went with Plymouth Gin as that was the brand recommended by Death & Co. The Champagne was a non-vintage Demilly de Baere Cuvee Carte d'Or Brut that I had received as a gift.