A big punch with a big name is the Crimean Cup à la Marmora: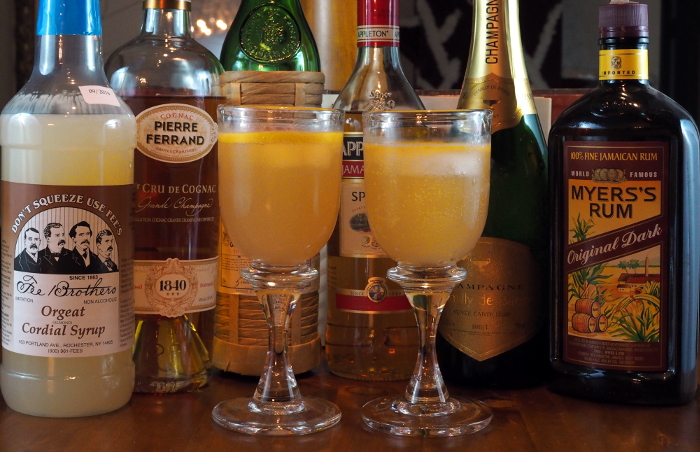 2.0 broad slices of lemon peel
1.0 teaspoon sugar
0.5 ounce dark Jamaican rum (Myers's works well)
1.0 ounce brandy
0.5 maraschino liqueur
0.5 ounce Jamaican rum
2.0 ounces orgeat syrup
0.5 lemon juice
4.0 ounces soda water
3.0 ounces chilled champagne

In a mixing glass, muddle the lemon peel with the sugar and the dark rum. Add remaining ingredients except the champagne, stir vigorously, and pour into 2 goblets with 2 or 3 large lumps of ice. Divide the champagne between the goblets.
This is one of the more complex drinks I've made, but it was really worth it. I like punches, but the last one I made, the Fish House Punch, required about 20 of my friends to help me drink it. This one makes enough for two, since a drink this good you will want to share (even if your friends are imaginary).
It's fruity, fizzy and fun, especially since you really do feel like a cocktail "chef" putting it together. It's also not nearly as strong as the Fish House Punch, so it makes a much nicer casual drink. And since we are nothing but educational on this blog, the cocktail was named after Alfonso Ferrero La Marmora, a hero of the Crimean War.
Rating: 5/5
Notes: I know you can make your own orgeat syrup, but I went with Fee Brothers. I used the recommended Myers's rum as will as some Appleton Estate. Luxardo is my go-to maraschino liqueur. Since this is "vintage" I went with the Pierre Ferrand 1840 for the brandy. The Champagne was a non-vintage Demilly de Baere Cuvee Carte d'Or Brut that I had received as a gift.