Named after a train, it's the Twentieth Century Cocktail: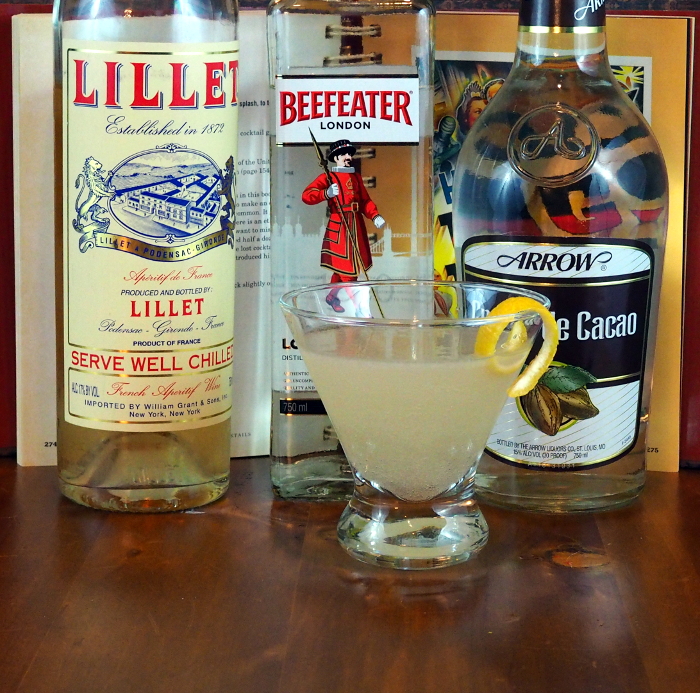 1.50 ounces gin
0.75 ounce Lillet Blanc
0.50 ounce light créme de cacao (or a scant splash, to taste)
0.75 ounce fresh lemon juice

Shake in an iced cocktail shaker, and strain into a cocktail glass. Garnish with a lemon twist.
This cocktail appeared in the 1930s, so it is post-Prohibition, and the train it was named after has been called the Most Famous Train in the World.
At its base we have gin and lemon, two of my favorite things, and to that you add Lillet Blanc and créme de cacao. It's nice, although I really didn't get a strong sense of the cacao (which should taste like chocolate).
Death & Co. has their take on the drink:
1.50 ounces Beefeater London Dry gin
0.75 ounce Cocchi Americano
0.75 ounce Marie Brizard White Créme de Cacao
0.75 ounce fresh lemon juice

Shake all the ingredients with ice, then double strain into a coupe.
The main difference is replacing Lillet Blanc with Cocchi Americano. Cocchi Americano is an Italian fortified wine that contains quinine. Lillet Blanc used to contain quinine when it was called "Kina Lillet" but it was reformulated and the quinine removed. Thus the Death & Co. version is probably more authentic, but they greatly up the cacao which will increase the chocolate flavor.
In any case, you can't go wrong with gin and lemon, no matter how you dress it up, so I liked this drink.
Rating: 4/5
Notes: I used Beefeater gin at the recommendation of Death & Co. I used Lillet Blanc since I had it (and that's what Doctor Cocktail specified). For the créme de cacao I used the discount Arrow brand, since I happened to have an unopened bottle.
The Twentieth Century Cocktail