Aptly named, it's The Soother: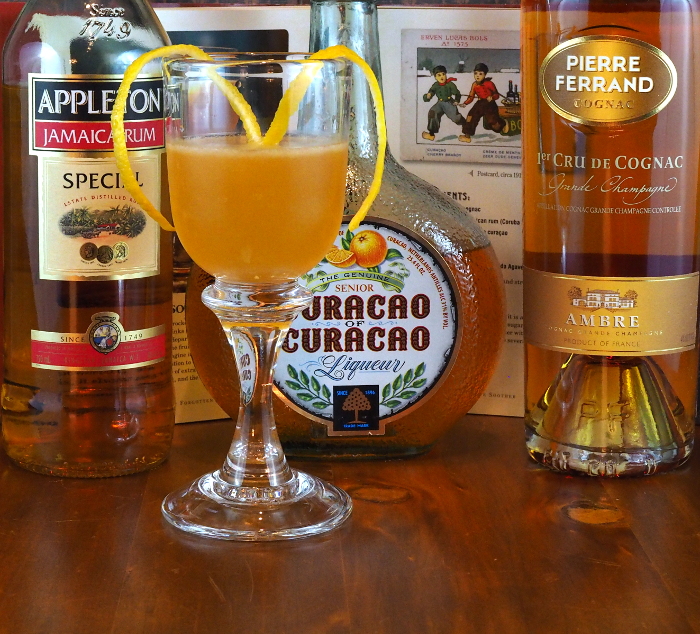 1.0 ounce cognac
1.0 ounce Jamaican rum (Coruba recommended)
0.5 ounce orange curaçao
Juice of 1/2 lemon
1 teaspoon apple juice
1/2 teaspoon simply syrup (or Agave Nectar)

Shake in an iced cocktail shaker, and strain into a goblet. Garnish with a fancy lemon twist.
There is a lot going on in this drink. It's listed in a book called Old Waldorf Bar Days from 1931, but it wasn't listed in the cocktail section but instead in one called "Fancy Potations & Otherwise". In any case, it is tasty.
Dr. Cocktail points out that the addition of small amounts of apple juice and extra sweetener shows that someone was really thinking about this cocktail. It's fun to make and fun to drink.
There were some frustrations with this recipe. It isn't the first one in the book recommending Coruba rum. The problem is that I can't find Coruba rum anywhere. Even the Internet seems to be confused. There is a web page that states Coruba is owned by Gruppo Campari but the "Coruba" website has a New Zealand URL: http://www.coruba.co.nz/. That domain is registered by "CSC Corporate Domains" in Delaware but administered by a company in Australia. In any case, none of my usual sources for obscure liquors can find it, so I'm thinking the good Doctor made the whole thing up.
Next, I hate recipes that I've never made listing ingredients like "Juice of 1/2 lemon". I've seen lemons the size of limes and lemons the size of my fist. Sometimes they can be quite dry, and sometimes, as was the case this time, they can be so juicy as to be squishy. If I had a complaint about this drink, it would be that I put in just a tad too much lemon.
Finally, this recipe recommended that for simple syrup you could substitute Agave Nectar (he recommended Partida, another impossible to find brand). When I started this quest I actually bought a small bottle of agave nectar, but heck if I can find it now, so I used just a splash of normal simple syrup.
Rating: 5/5
Notes: Lacking access to the mythical Coruba, I went with the always reliable Appleton rum. For the cognac I used Pierre Ferrand Ambre, and Senior Curaçao for the curaçao.