There may not be nary a drop of water to drink, so try The Ancient Mariner: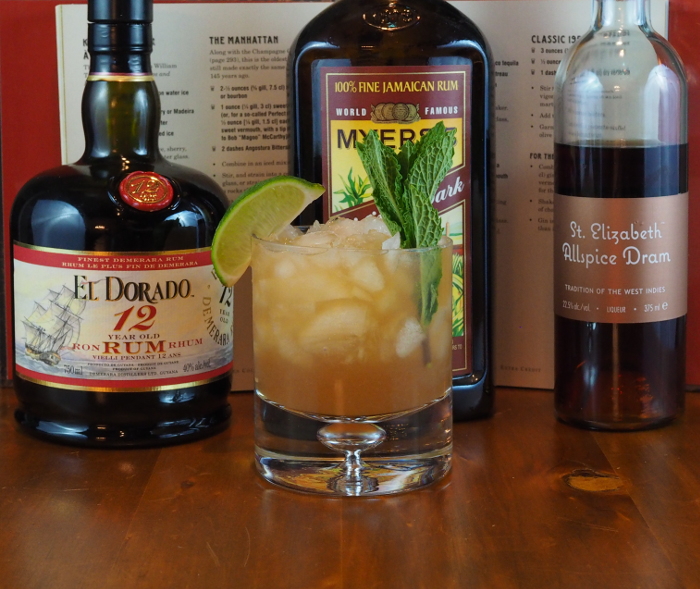 1.00 ounce Demerara rum (not the 151-proof kind)
1.00 ounce dark Jamaican rum (Coruba)
0.75 ounce fresh lime juice
0.50 ounce grapefruit juice
0.50 ounce simple syrup
0.25 ounce Allspice Dram

Build in a double old-fashioned glass filled with crushed ice. Garnish with a lime wedge and a mint sprig.
Ah, Tiki drinks. How I love 'em. And this one features Allspice Dram, the key ingredient in another favorite cocktail of mine, The Lion's Tail.
It's a wonderful drink, and Andrea even liked it (she liked it so much she thought I was on a different book – she likes her cocktails sweet).
I do want to stress that this drink needs to be called the Ancient Mariner, and not Navy Grog. Navy Grog is a similar drink, but it adds an additional ounce of light rum as well as honey, and skips the Allspice Dram. According to Jeff "Beachbum" Berry, this drink was an attempt to copy Trader Vic's Navy Grog, which was itself an attempt to copy Don the Beachcomber's Navy Grog.
Yes, it's Navy Grogs, all the way down.
I do want to try Berry's actual Navy Grog, which apparently requires an ice cone garnish (I added one to my wish list on Amazon), but for now I'll stick with The Ancient Mariner and its wonderful Allspice Dram.
Rating: 5/5
Notes: This was a perfect time to use my special 12 year old aged El Dorado Demerara rum, as it is awesome. I used Myers's Dark Rum since Coruba is pretty much non-existent. The Allspice Dram was St. Elizabeth's.
Navy Grog (The Ancient Mariner)