Another favorite of mine, The Singapore Sling: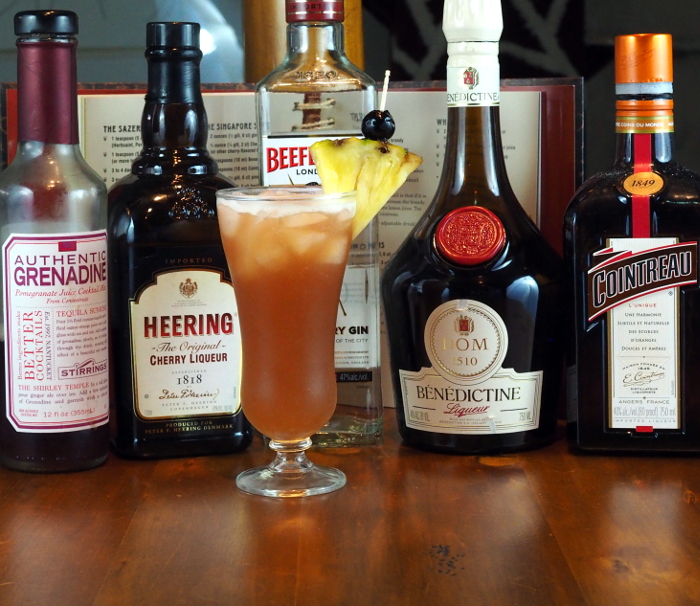 2.00 ounces gin
0.75 ounce Cherry Heering (or other cherry-flavored brandy)
2 teaspoons Benedictine
2 teaspoons Cointreau
2.00 ounces pineapple juice
0.75 ounce fresh lime juice
2 dashes real pomegranate grenadine
1 dash Angostura Bitters
Soda water

Combine all except soda water in an iced cocktail shaker. Shake, and strain into a highball or collins glass with a couple of lumps of ice. Top with soda water. Gernish with a cherry, a pineapple slicem, and an orange wheel.
One of the things I like about the Appendix in Dr. Cocktail's book is that a lot of the recipes are true classics, and thus are very tasty. The Singapore Sling is no exception.
I am still looking for a definitive list of vintage cocktail terms. For example, while now the term "cocktail" refers to almost any drink with spirits, a cocktail used to mean spirit, water, sugar and bitters. A sling was spirit, water, sugar and citrus. A flip contained an egg. A fizz contained something "fizzy" like soda water, so could this be the Singapore Fizz?
The Death & Co. recipe leaves the soda water out entirely.
1.50 ounces Beefeater London Dry Gin
0.50 ounce Cherry Heering
0.25 ounce Benedictine
0.25 ounce Cointreau
2.00 ounces pineapple juice
0.50 ounce fresh lime juice
0.50 ounce real pomegranate grenadine
1 dash Angostura Bitters

Short shake all the ingredients with 3 ice cubes, then strain into a highball glass filled with ice cubes. Garnish with a pineapple and cherry flag.
I made the Death & Co. version, since that is what made friend Justin made for us in one of his cocktail classes. It is very tasty. Dr. Cocktails version is a bit larger, and as I still have some pineapple juice around, I plan to make it again.
Now the Singapore Sling is a descendant of the Straits Sling. As I mentioned in that article, I used to go out with my friends Nick and Nora to a restaurant in Raleigh, NC, that was known for the Hang Chow Sling, named after the restaurant.
Fond memories are the best addition to any cocktail.
Notes: While most vintage cocktail lovers make their own grenadine, I've found an acceptable bottled version in Stirrings.
Rating: 5/5