Adding to my confusion, it's the Whiskey Sour: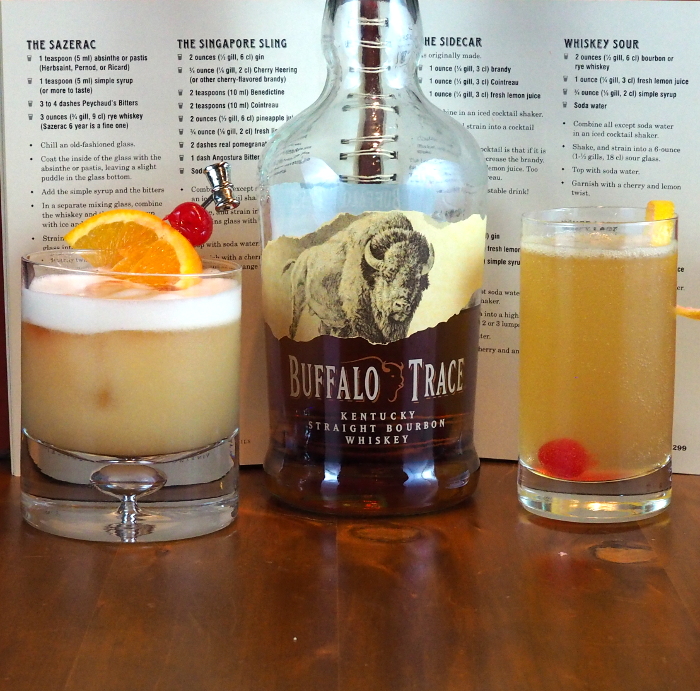 2.00 ounces bourbon or rye whiskey
1.00 ounce fresh lemon juice
0.75 ounce simple syrup
Soda water

Combine all except soda water in an iced cocktail shaker. Shake and strain into a 6-ounce sour glass. Top with soda water. Garnish with a cherry and a lemon twist.
When I cross referenced this with the Death & Co. book, they had a different recipe:
2.00 ounces Buffalo Trace Bourbon
0.75 ounce fresh lemon juice
0.75 simple syrup
1 egg white

Dry shake all the ingredients, the shake again with ice. Double strain into a double rocks glass over 1 large ice cube. Add a dash of Angostura bitters on top and garnish with an orange and cherry flag.
Note the difference: the latter substitutes an egg white for the soda water.
Solely in the interest of science, I made both.
Here's where I get confused. As I mentioned in the Singapore Sling post, a sling was supposed to be "spirit, water, sugar and citrus". But that tends to be the exact description of a sour. (sigh)
I've started reading the excellent Dead Rabbit Drinks Manual, where I've come to realize that I know jack about cocktails. They define a sour as above and a fizz as just a sour with soda water added. To them, slings and toddies consist of "spirit, water and sugar" where the water is still in a toddy and carbonated in a sling. David Wondrich takes it further by calling hot versions toddies and cold versions slings.
So, by this definition, both the Singapore Sling and Straits Sling are actually Fizzes, and in the Dead Rabbit book the Straits Sling is listed in the Sours and Fizzes section.
Got it? Then let me throw this at you. The other "sour" I've made is the Delicious Sour, which contained an egg white, like the Death & Co. recipe above. Drinks containing eggs can be considered Flips, although Flips contain whole eggs. I have not be able to find a class of drinks that just contain egg whites, so let's go ahead and assume that the Death & Co. recipe is indeed a sour, although the Dr. Cocktail version is, indeed, a Fizz (his recipe for a Tom Collins is the same as above with gin replacing the whiskey).
I made both, since it was a hot day and I'm technically on vacation. Note that the Dr. Cocktail recipe is served neat whereas the Death and Co. version is over ice.
Both were good, but not outstanding. I think I would have liked the Dr. Cocktail version over ice to keep it cooler, but I really disliked the bitters garnish on the Death and Co. version since it looked more like a stain across the top of an otherwise pristine foam. I liked the flavor, so if I make this in the future I'll shake it in. Both Andrea and I expressed a small preference for the Death & Co. version.
Rating: 4/5 for both.
Notes: I used Buffalo Trace Bourbon in both to make the comparison as close as possible.