Look, gin is nice. I like gin, and gin makes a great base for many a cocktail. But I was getting a little tired of it so I went in search of a non-gin based drink. I found The Scofflaw: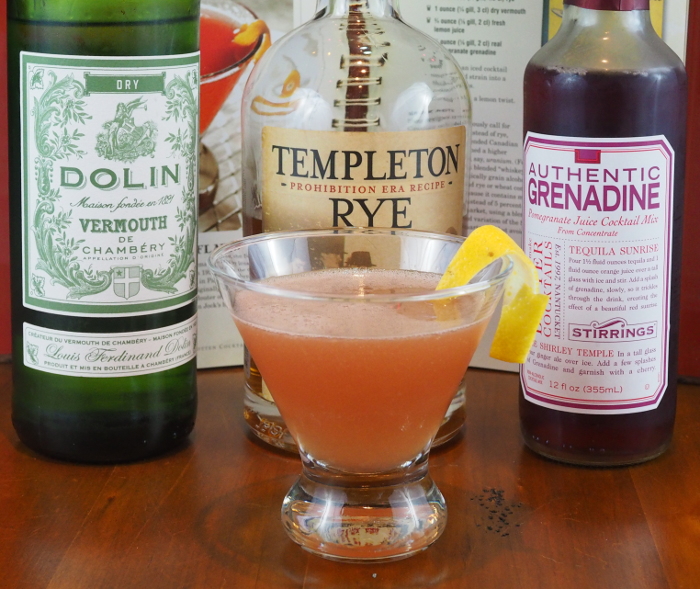 1.50 ounces rye
1.00 ounce dry vermouth
0.75 ounce fresh lemon juice
0.75 ounce real pomegranate grenadine

Shake well in an iced cocktail shaker, strain into a cocktail glass. Garnish with a lemon twist.
The term scofflaw is from the prohibition era and was used to refer to someone who "scoffed at the law" and drank frequently at speakeasies. Dating from 1924, it later became synonymous with anyone who flouts laws, usually traffic laws. The drink was invented at Harry's New York Bar in Paris, which stills exists, and now that I know about it I'm unhappy that I missed visiting on my last trip there.
This drink hits all the right notes. Due to the high amount of grenadine it is important to use an authentic variety (I default to Stirrings) and while I still haven't been able to get my cocktails that contain grenadine to look like those in the book, the Scofflaw is a pleasing color and tastes wonderful. My co-taster, Andrea, who is not a huge cocktail drinker, took the first one. I gladly made another for myself.
Rating: 4/5
Notes: Used Templeton Rye and Dolin Dry Vermouth.