In search of refreshment? Have a Tom Collins: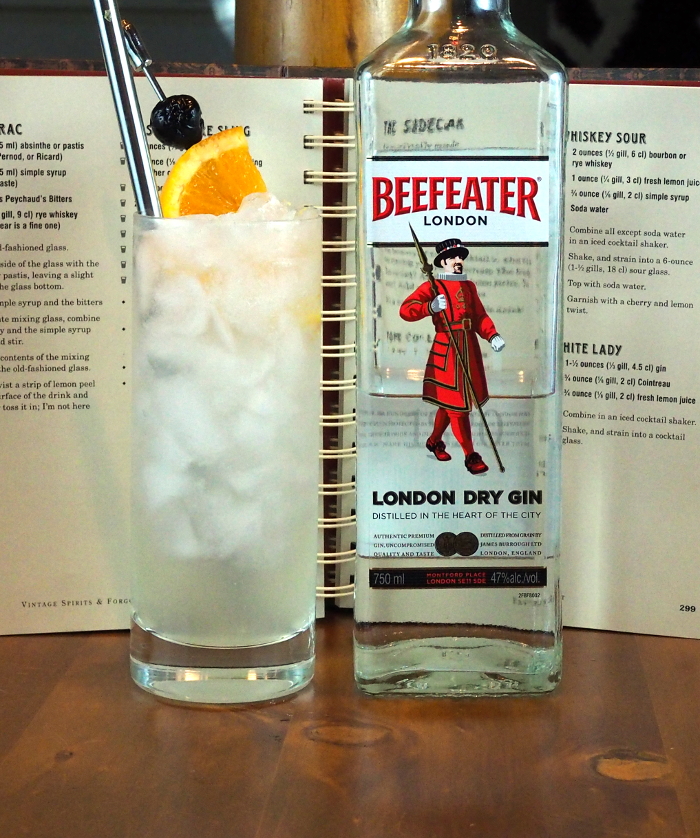 2 ounces gin
1 ounce fresh lemon juice
1 ounce simple syrup
Soda water

Combine all except soda water in an iced cocktail shaker. Shake and strain into a highball or collins glass with 2 or 3 lumps of ice. Top with soda water. Garnish with a cherry and an orange wheel.
I am on vacation this week, but since I'm addicted to work this means that I'm taking a week off to work on the farm. After spending about seven hours on a tractor, I was in search of refreshment, and nothing quite hits the spot like a Tom Collins.
As usual, I cross referenced this recipe with the one from Death & Co., and theirs was pretty much the same:
2.00 ounces Beefeater London Dry Gin
1.00 ounce fresh lemon juice
0.75 ounce simple syrup
Club soda

Short shake all the ingredients (except the club soda) with three ice cubes, then strain into a highball glass filled with ice cubes. Top with club soda. Garnish with an orange wheel and cherry flag and serve with a straw.
For once the Good Doctor's recipe was sweeter.
As I've mentioned numerous times before, few things go together like gin and lemon (raspberries and chocolate, salt and pepper, peanut butter and jelly). Add some sugar and some sparkling water and you have yourselves a drink.
This cocktail is a Fizz, which as we've learned is a Sour with fizzy water added. I liked this drink so much more than the Whiskey Sour, even though the main difference is choice of spirit. Now I love bourbon, but when it comes to refreshment on a hot summer day, gin wins every time. For calorie reasons I often lean toward a Gin and Tonic with diet tonic, but if my weight was not a problem I could drink a pitcher of these in any month without an "R" in its name.
If you are looking for an amazing Fizz with bourbon, the Fred Collins Fiz is excellent.
Rating: 5/5
Notes: I used Beefeater Gin as recommended in the Death & Co. recipe, but I made the Dr. Cocktail recipe. For carbonated water, I use a Sodastream. Not sure if the master bartenders would approve, but it is affordable and works for me.