Even though I have a lot a gin drinks in the queue, I wanted a whiskey drink so I made The Liberal: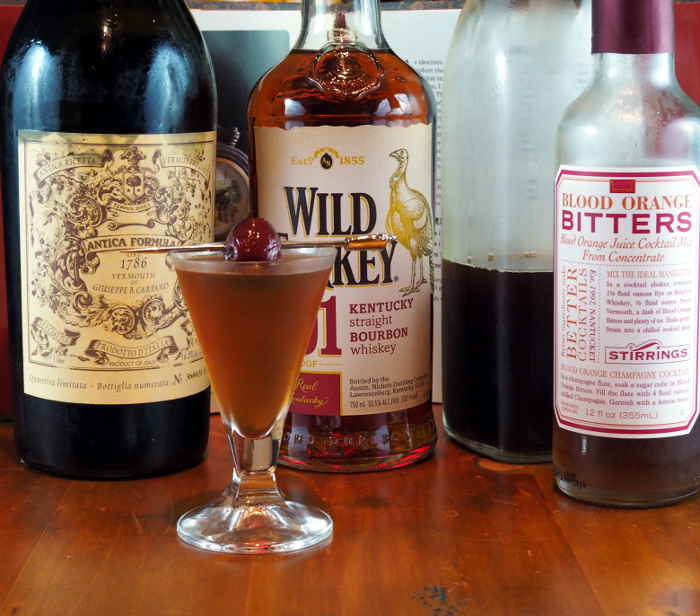 0.75 ounce 100-proof Wild Turkey
0.75 ounce Italian vermouth (Carpano Antica)
3 dashes Torani Amer
1 generous dash orange bitters

Stir energetically in an iced mixing glass, and strain into a cocktail glass. Garnish with a cocktail cherry.
I was recently in a cocktail class where the instructor asked for everyone's favorite cocktail, explaining that his was the Manhattan.
While I love a good Manhattan as much as the next guy, I prefer the Brooklyn in much the same way I prefer that borough of New York City to the others. The Brooklyn tends to add some extra bitterness via Amaro/Amer. One of my top cocktails is Life is Beautiful and The Liberal is in a similar vein.
It's funny how the word "liberal", at least in the United States, is mainly identified with a political leaning, often in a negative fashion. I find it amusing, because if you ask someone if they would like a liberal pay raise or a conservative one, I usually know the answer.
As I learned from Imbibe!, the early cocktail set was also the "sporting set" who would probably fall under the definition of "liberal" that means "lacking moral restraint". For another definition, read Ted Haigh's tweets (grin).
I went looking for a "Conservative" cocktail, and while the Liberal dates from at least 1934, the only recipe I could find for the Conservative dates from 2013. It doesn't sound all that appealing.
The Liberal, however, is very tasty. While some of the recipes I found on-line call for rye instead of bourbon and a ratio of 1.5 ounces whiskey to 0.5 ounce of vermouth, this 1:1 recipe works. You must use a high quality vermouth like Carpano Antica (as there is so much of it in this recipe) and while I thought the high-proof Wild Turkey would be harsh, the drink itself was very mellow, if small.
Rating: 4/5
Notes: Instead of Torani Amer I used my homemade Amer Picon. I went with Stirrings blood orange bitters.